Actually, I wanted to go to a vegan café at Fischmarkt in Hamburg that was recommended at the official website of Hamburg city. But it's closed in the Winter season. No reason to be sad, there is a wonderful brand new place only some meters away: Neue Heimat (English: New Home) – a restaurant with delicious healthy food in a charming atmosphere. It just opened on October 23, 2015, and I love it.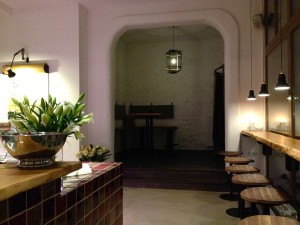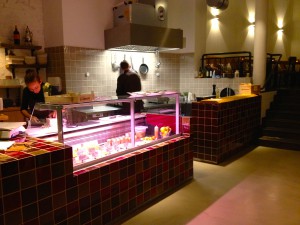 The concept of Neue Heimat is based on health food (vegetable dishes) and you can combine everything with tofu, fish or meat. Sustainability is very important to the manager Petra Trautner and she knows in person the merchants of all food they buy. The fish for example comes from a merchant near the bistro and sells excellent fish. The meat is bought by a farmer near Hamburg who guarantees best quality. An open kitchen gives you the chance to watch the very approachable chef preparing your fresh meal.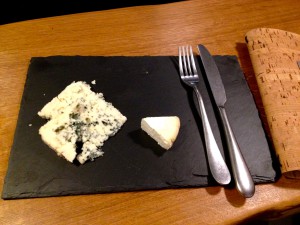 Neue Heimat has a cheese counter and wine bar par excellence. The cheese comes from Maître fromager affineur Volker Waltmann. His cellar is a paradise for cheese lovers. The master of cheese refinement is always looking for technically perfect young raw milk cheese which he refines and stores in his cellar until it reaches the ideal maturity.
The wine comes from Nuremberg, Germany, and is harmonized perfectly with the dishes of the restaurant. In the menu you'll find provoking, entertaining and informative notes written by the head of the wine hall in Nuremberg for each wine.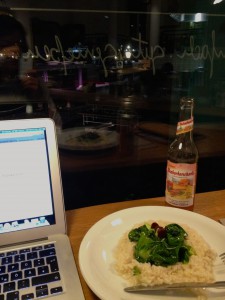 I spent more than two hours in the restaurant. The wonderful atmosphere, the beautiful view to the port, the lovely and elaborated concept of the interior design and the delicious food and drinks made me feel very comfortable and I could have worked there for even more hours. Last but not least, the manager and her stuff are very friendly and very competent in answering all my questions (about the restaurant and food, and I got wonderful clues about Hamburg). I can totally recommend Neue Heimat at Fischmarkt – you should visit that new place in Hamburg and make your own opinion!
Contact
Neue Heimat
Fischmarkt 5
22767 Hamburg
Opening hours:
Mo-So: 9 a.m – 8 p.m.