Munich (German: München) is the capital of the German region Bavaria (Bayern). With 1,5 million inhabitants, Munich is the 3rd biggest city of Germany (after Berlin and Hamburg). Munich is known especially for its famous Oktoberfest. Two other emblems are the New Town Hall and the Maypole at the Viktualienmarkt.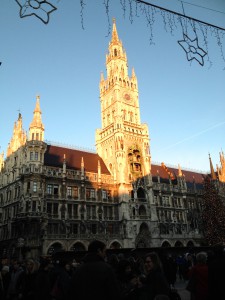 The New Town Hall of Munich is domicile of the municipality of the city since 1874. Georg von Hauberrisser built it from 1867 to 1908 in a Gothic Revival architecture style. The main facade is richly decorated with frescos of saints and folklike figures. The main tower has a height of 85 m and is available for visitors with an elevator. On the top thrones the Münchner Kindl, Munich's emblem. The carillon of the tower is the fifth-largest in Europe. An apparatus can perform 4 different melodies with 43 bells.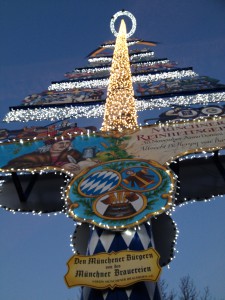 The Maypole is the center of the Viktualienmarkt, a permanent grocery market in the Old Town of Munich. The origin of erecting a maypole (Maibaum) mostly on May 1 is a tradition in some Germanophone regions and goes back to the 16th century. In Bavaria, the pole is usually painted in the Bavarian colours of white and blue and decorated with emblems depicting local crafts and industry. The maypole of the Viktualienmarkt is sponsored by the Association of Munich's Breweries.