« What will your family eat on Christmas? » is an often asked question in decembers. But what do people eat on New Year's Eve? My family would answer the same as many other Germans, too: carp.
The tradition of eating carp on Christmas or New Year's Eve is very common in many parts of Germany as same as in Bohemia (Czech Republic) and Austria. But why having carp on New Year's Eve? The answer is simple: the popular belief is that a carp scale or a chondral-like part of the fishbone would bring luck and money in the new year when you put it in your wallet.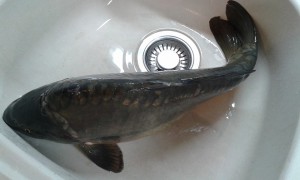 Carp breeding is very common in Germany, Poland, Bohemia, Austria, Slovenia, Croatia,  Hungary and many Asian regions. In Germany, we buy the carp directly from the breeder. When the carp was bred in a muddy lake like in the lake of Moritzburg Castle, people keep the carp alive for a couple of days before slaughtering it. They put the living carp in a tub with fresh and clean water, so the carp cleans its gills from mud and other substances that would make the fish tasting earthy and strawy. These days of waiting give kids the opportunity to observe and fondle the fish… When you buy carp from clean lakes, like a gravel pit, it can be slaughtered directly by the breeder.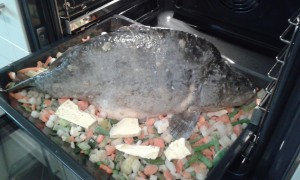 There are different ways of preparing carp. My family puts the whole fish with vegetables in the oven. It's delicious.